Sisko muutti nyt tammikuussa poikaystävän perässä Berliiniin. Halusin antaa mukaan jotain itse tehtyä, jolla toivottavasti olisi sekä tunnearvoa, että käyttöarvoa, joten päädyin kokoamaan siskolle 2012 vuoden seinäkalenterin. Kuukausien ja viikonpäivien nimet halusin kahdella kielellä: suomeksi ja espanjaksi, sillä siskon poikaystävän äidinkieli on espanja, ja olisi tuntunut tylsältä tyytyä pelkkään englantiin. Kalenterin kuvituksena käytin ottamiani valokuvia ja oma haasteensa oli yrittää löytää jokaiseen kuukauteen tunnelmaltaan ja/tai vuodenajaltaan sopiva valokuva.
Lopullisen kalenterin tulostin A4-koossa - jokaisen kuukauden omalle paperiarkilleen, laminoin arkit ja kiinnitin ne yhdeksi nipuksi metallisella klipsillä.
/
My sister just moved to Berlin. Before she left I wanted to give her a gift. I thought it should be something self-made that would have both use value and sentimental value, so I ended up designing a 2012 wall calendar. I wrote everything in Finnish as well as in Spanish, and picked the photos from my own files. It was surprisingly hard to find photos that would somehow express the feeling and/or season of a spesific month.


The final calendar was printed in A4-size - each month in it's own sheet, the sheets were laminated and then combined together with a metal clip.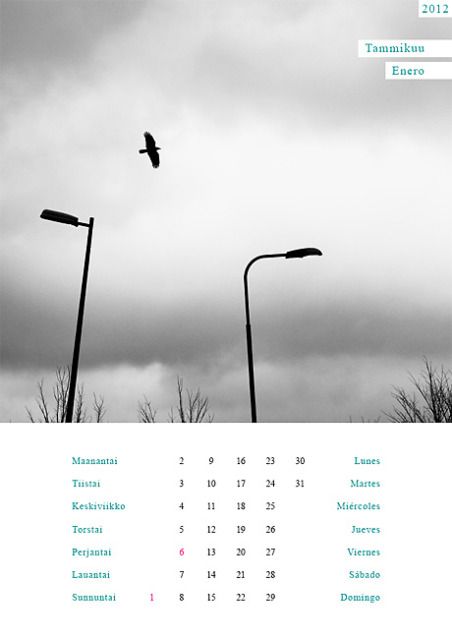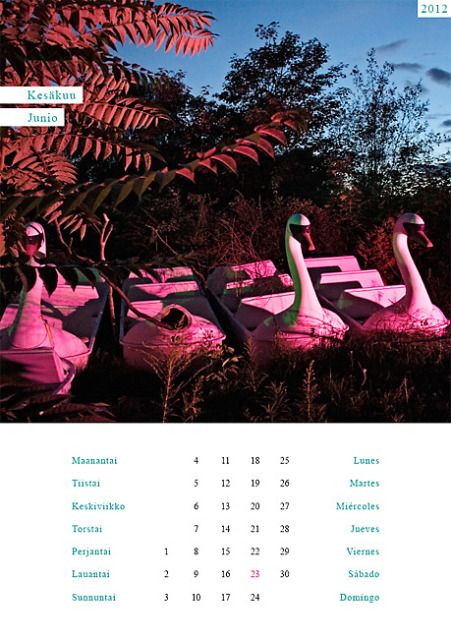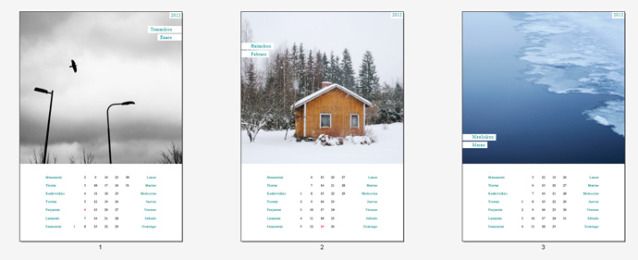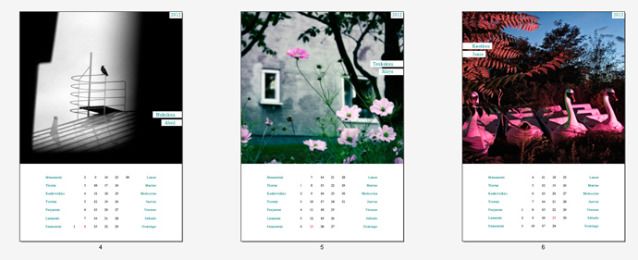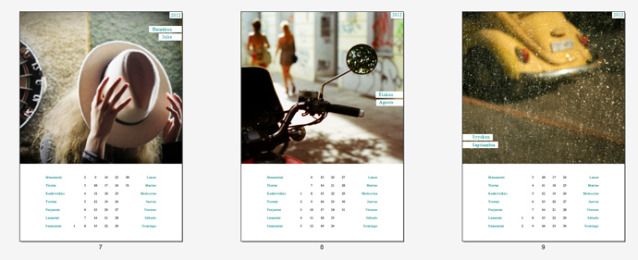 Kaikki kaksitoista kuukautta - kahdeksan kuvista on Suomesta, kolme Berliinistä ja yksi Amsterdamista. / All twelve months - eight photos from Finland, three from Berlin and one from Amsterdam.