Eilen oli

Helsingin juhlaviikkojen

ohjelmanjulkistuskekkerit, joten nyt voin vihdoinkin julkaista pari kuvaa ja kertoa myös mistä on kyse.

Helsingin juhlaviikothan on Suomen suurin monitaidefestivaali, joka järjestetään vuosittain kesän lopulla elo-syyskuussa.Tämän vuoden Juhlaviikkojen mainosilmeen kantavana ideana on tuoda esille erilaisia syitä miksi lähteä Juhlaviikoille ja hylätä houkuttelevan pehmeän kotisohvan kutsu. Tammikuun lopulla tähän projektiin haettiin mukaan nuoria taidealan opiskelijoita luomaan näitä syy-kuvituksia yhteistyössä mainostoimisto

BOB Helsingin

kanssa ja tottakai innostuksen puuskassa päätin hakea hommaan mukaan. Lopputuloksena multa syntyi kaksi valokuvaa. Kolmaskin kuva mulla oli ideoituna, mutta koska satuin saamaan flunssan pahimmalla mahdollisella hetkellä ja aikataulu oli tiukka, niin se oli pakko unohtaa.

Näitä kuvia oli todella kivaa ja inspiroivaa tehdä, mutta pakko sanoa et paikoitellen se oli myös aika hermoja raastavaa. Etenkin mustavalkoinen viulukuva antoi haastetta, koska halusin ehdottomasti toteuttaa sen omakuvana. Niinpä mulla meni seitsemän tuntia ja yli kaksisataa otosta, ennen kuin sain ton ihan lopullisen kuvan muistikortille, mutta oon edelleen sitä mieltä, että kannatti. Opin paljon ton homman aikana ja kirjoitankin siitä varmasti joskus toisten vielä enemmän.

/

Yesterday was the day when Helsinki Festival

announced their this year's program. For me it means that now I can finally publish some photos and tell what is this all about. So...
Helsinki Festival is the biggest arts festival in Finland, and it's organized annually in late summer. This year the main idea of Helsinki Festival's advertisement is to bring out various reasons why one should go to the festival instead of choosing comfortable coutch at home. In the end of January advertisement agency BOB Helsinki was looking for some young art students to create the illustrations for these different reasons. In some sudden blast of excitement I decided to give it a try and in the end I did two photos. I had a third one in my mind too, but because of getting ill at the worst possible moment I had to forget it.
It was fun and inspiring to do these photos, but I gotta say that in some moments it was also quite nerve-wracking. Particularly with the black and white violin photo, because I wanted to do it as a self portrait. So it took seven hours and more than 200 shots before I got it right, but I still think it was totally worth it. I learned a lot during that process and I'm gonna write more about it later.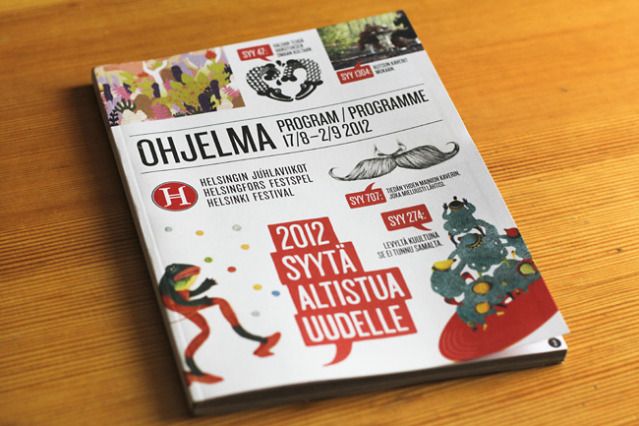 Ohjelman kansi / Cover of the program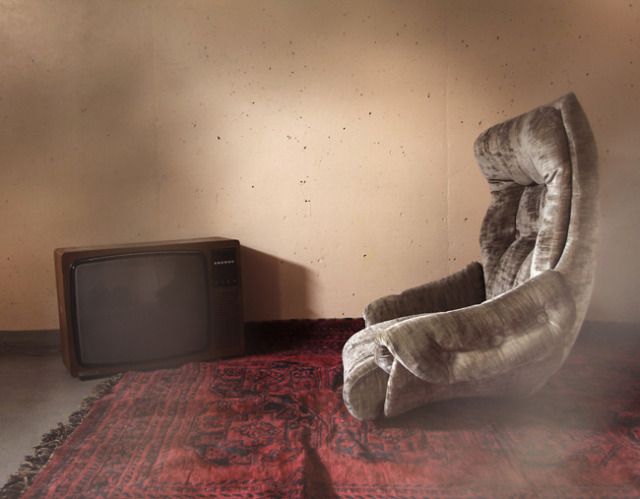 Syy 40: Televisiosta ei tule mitään. / Reason 40: Nothing is coming from the TV.