Oon aina ollut enemmän tai vähemmän keräilijä, ja vaikka mun keräilykohteet onkin ajan kuluessa vaihdelleet, niin yksi kokoelma mulla on edelleen joka on kestänyt läpi vuosien. Kaunis kokoelma simpukankuoria. Aloin keräämään niitä suunnilleen seitsemän vuotiaana, ja nyt kun muutin viime kuun alussa uuteen asuntoon, niin törmäsin niihin hieman puolivahingossa. Siellä ne lojui parissa pahvilaatikossa ja hetkessä muistin kaiken, sen kuinka mulla oli tapana järjestellä niitä tuntikausia uudelleen ja uudelleen, ihailla niiden yksilöllistä kauneutta, tunnustella niitä käsissäni, yrittää laskea ne ja seota lähes aina laskuissa kun pääsin yli kolmensadan ja sen jälkeen asetella ne taas hellästi takaisin laatikoihin.
Vuosi sitten kun oltiin meiän valokuvaporukan kanssa
opintomatkalla Amsterdamissa
niin pääsin ensimmäistä kertaa kävelemään kunnon hiekkarannalla, joka oli täynnä simpukoita. Se oli huima elämys, kun siihen saakka ainoat itse luonnosta poimimani yksilöt olin kerännyt Vantaanjoen mutapohjasta. Hollannin rannikolla oli hieman eri meininki. Siellä tunsi olevansa jossain aivan toisessa maailmassa. Nämä valokuvat ovat oodi tuolle maailmalle ja simpukoiden uskomattomalle kauneudelle.
/
I have always been into collecting things, and though my targets have changed during time, there's one collection that has lasted over the years and still remains with me. A beautiful collection of seashells. I began to collect them when I was maybe seven years old, and now when I moved to this new flat I half accidentally came across with boxes full of them. In a second I remembered everything, how I used to arrange and re-arrange them for hours, admire their unique beauty, feel them in my hands, count them and then gently organize them back to boxes.
A year ago when we had

a school trip to Amsterdam

I finally got a chance to walk on a real beach full of seashells. It was so wonderful. Before that I had only picked up some shells from the muddy river near to my home, so the coast of Netherlands was something totally mind blowing for me. To be there felt like being in a whole different world. These photos are an ode to that world and to the incredible beauty of seashells.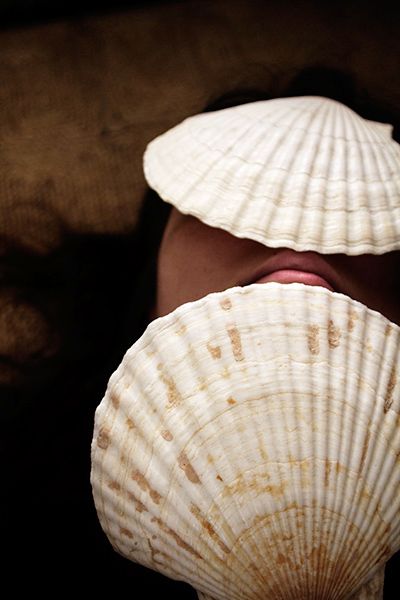 Self-portrait with seashells, 2012