JESSS!! Nyt voin vihdoin sanoa sen: mun kandidaatintutkinnon opinnäytetyö on valmis! Tässä tuleekin sen kunniaksi pari kuvaa mun työn taiteellisesta osasta eli valokuvakirjasta. Kirja on nimeltään "Kuiskauksia" ja se sisältää 15 valokuvaa ja yhden runon. Lähes kaikki siinä olevat valokuvat on omakuvia - ja tarkemmin sanottuna alastomia omakuvia. Joo, tiedän miltä toi kuulostaa.. ! Mutta noi kuvat ei ole todellakaan mitään sellasta. Oikeastaan, taidan olla jo julkaissutkin kaikki ton kirjan kuvat täällä blogissa, joten jos ei ole tämän blogin sisältö onnistunut säikäyttämään, niin ei sitten kyllä ton kirjankaan. Alaston omakuva vain kuulostaa helposti aika epäilyttävältä tai pornografiselta, mutta sehän taas ei ole mun vika.
Mut itse kirjasta... jos oon täysin rehellinen, niin ton kirjan painojälki on aika kaukana siitä mitä se vois ja mitä sen tulis olla, mutta muuten oon kyllä erittäin tyytyväinen siihen. Siitäkin huolimatta, että ton suunnitteleminen ja taittaminen ei ollu todellakaan helppoa, niin oon ilonen, että päätin tehdä sen ihan itse. Tekemällähän sitä just oppii, ja koska rakastan graafista suunnittelua, niin suhtauduin tohon mielenkiintoisena ja hyvänä haasteena.
Kirjallinen osa mun opinnäytetyöstä taas käsittelee luonnollisesti alastonta omakuvaa valokuvataiteessa. Etsin siinä vastausta kysymykseen siitä miksi itse käytän alastomuutta omakuvissa ja miksi niin monet valokuvaajat ennen mua on päätyneet samaan ratkaisuun. Lyhyesti tiivistettynä alaston omakuva kietoutuu pitkälti seksuaalisuuden ja identiteetin etsimisen ympärille, samoin kuin esimerkiksi sellaisten laajempien teemojen käsittelyyn kuin ikääntyminen ja ihmisen ja luonnon välinen suhde. Oman työni ja työskentelyprosessini ohella keskityn tekstissäni tarkemmin kolmeen tämän genren valokuvaajaan: Arno Rafael Minkkiseen, Francesca Woodmaniin ja John Coplansiin.
Uskomatonta kyllä, siitä on melkein kaksi vuotta kun aloitin tän kyseisen työn ja nyt se on tehty. Miten hullu tunne. Tunnen itseni niin huojentuneeksi ja vapaaksi! Nyt ei enää omakuvia, ei ainakaan ihan hetkeen!
/
YEYYY!! Now I can finally say it: my BA thesis is done! Here's a sneak peek to the book I did. It's called "Kuiskauksia" (Whispers) and it contains 15 photographs and a poem. Almost all of the photos are self-portraits - and nude ones. Yes, I know how it sounds... ! But believe me, it's nothing like that. Actually I think I've already published all photos of that book here in my blog, so if you haven't already ran away, I'm sure the book isn't too much either. Nude self-portrait just sounds suspicious and pornographic as a term, but then again, I guess that's not my fault.
But about the book... if I'm honest, the printing quality is far from what it could, and should be, but otherwise I'm very satisfied with it. It was certainly not easy to design the layout, but I'm glad that I decided to do it all by myself. Doing things is the best way to learn and as I love graphic design, this was a great challenge.
The written part of my thesis is naturally about nude self-portraits in the field of art photography. I'm looking for answers to the question why I use nudity in self-portraits, and why many photographers before me have done the same. In short, the reasons intertwine around sexuality and seek of identity, as well as wider themes such as aging and human's relationship to nature. Besides my own work and working process, I focus on three photographers of this genre: Arno Rafael Minkkinen, Francesca Woodman and John Coplans.
It's almost two years when I started this thesis and now it's complete. What a crazy feeling. I feel so relieved and free! No more self-portraits for me, not at least for a little while!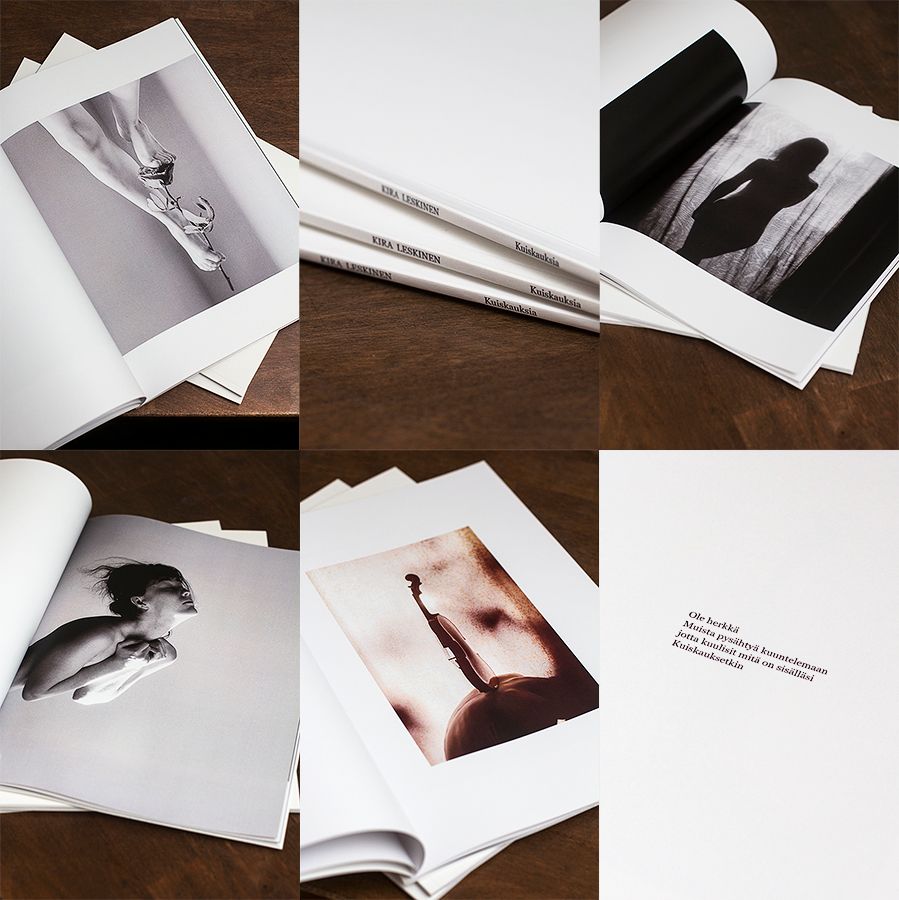 Klikkaa kuva suuremmaksi! / Click the photo to see it in larger size!
Tässä on vielä toi runo siltä varalta, että kuvasta ei meinaa saada selvää:
Ole herkkä
Muista pysähtyä kuuntelemaan
jotta kuulisit mitä on sisälläsi
Kuiskauksetkin
/
Oh, and translated in English the poem is something like:

Be sensitive
Remember to stop to listen
so that you would hear what is inside of you
Even the whispers