Tässä on yksi työtehtävä, jonka tein jo niinkin kauan aikaa sitten kuin toukokuussa. Kyseessä on kansikuva Hanna Pudaksen ja Katja Jalkasen kirjablogikirjaan nimeltä Rivien välissä. Olin toivonut, että kirjoittaisin kaikesta vasta sitten kun olisin itsekin lukenut tän kirjan, mutta koska en ole vielä saanut käsiini omaa kappaletta, niin päätin nyt vain näyttää kaksi kuvaa - alkuperäisen valokuvan ja lopullisen Tarja Kettusen suunnitteleman kannen.
Kun aloin valmistelemaan tätä kuvaa, niin mulla oli vain ympäripyöreä käsitys siitä mitä oikein haluan - kirjapinon, joka jollain tapaa kertoisi tasapainosta, mutta en kuitenkaan sellasta kirjapinoa joka tulee vastaan kun googlettaa "pile of books". Halusin kuvan olevan yksinkertainen ja keveä tunnelmaltaan. Samoin kuin harmoninen, mutta ei kuitenkaan liian symmetrinen, sillä mun mielestä jos kuva on sekä yksinkertainen, että hyvin symmetrinen, niin myös lopputulos on lähes aina tylsä. Ja miksi halusin kuvan kertovan tasapainosta? No, vaikka en tiedäkään hirveästi kirjablogeista, niin musta tuntui selvältä, että nimenomaan kirjabloggarit on niitä jotka joutuu tasapainoilemaan tavallisten ihmisten ja kirja-alan ammattilaisten (kirjailijoiden, kustantamoiden, kriitikoiden jne.) välillä. Alla näkyy millaiseen kuvaan toi ajatus oikein johti.
/
Here's a work assignment that I did already back in May. It's a cover photo for a book called Rivien välissä (Between the lines). The book is about literature blogs and it's written by Hanna Pudas and Katja Jalkanen. I was hoping to write about this whole thing only after reading the book myself, but as I haven't got a copy of it yet, I thought that I'll just show the original photo and the final book cover designed by Tarja Kettunen.
When I began preparing the photo I only had a vague idea of what I was looking for - a pile of books that would somehow express balance, but not be like those photos that you get when you google "pile of books". I wanted it to be simple and light. Harmonic, but not too symmetrical, because in my opinion if a photo is both simple and symmetrical, it often turns out something boring. And why did I want to express balance? Well, though I don't know much about literature blogs, it seemed clear for me that book bloggers are the ones that are constantly balancing between the common people and the book professionals (writers, publishers, critics etc.). Below you can see where that thought led me to.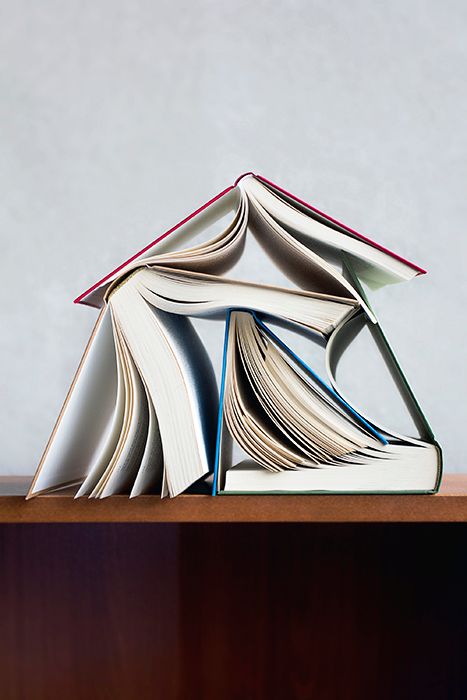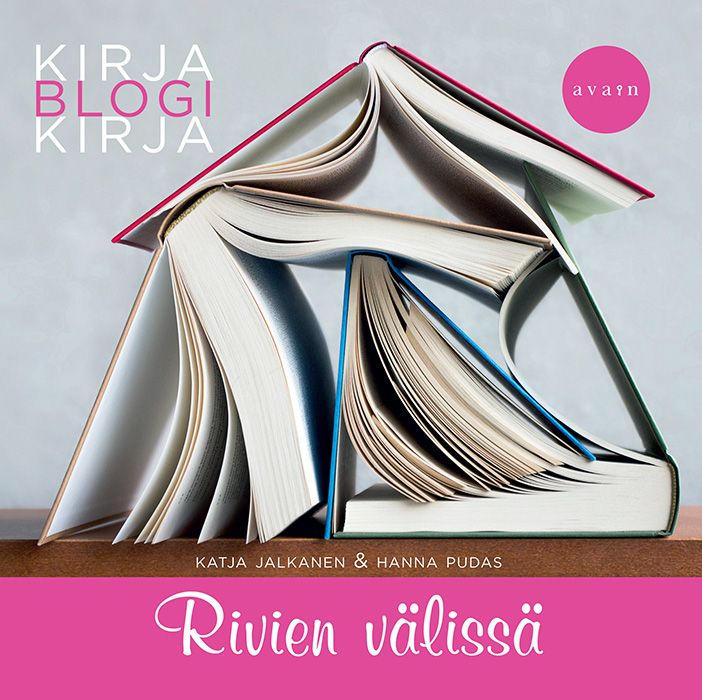 Katja Jalkanen & Hanna Pudas: Rivien välissä
Avain, 2013