Tässä tulee muutama juttu joiden parissa oon työskennelly viime aikoina: kolme kuvaa, jotka oon ottanut mun vanhalla totaalisen onnettomalla Nokialla sekä muutama 70x100 cm:n kokoinen abstrakti maalaus.
Noi huonolaatuiset kännykkäkuvat on mun yritys päästä hetkeksi irti niistä valokuvausvälineistä, joita yleensä käytän. Myönnän, että oon tosi kiintynyt mun digijärkkäriin ja vaikka en olekaan mikään tekniikkahifistelijä, vaan varmasti aivan vastakkaista laitaa, niin silti mulle on aika vaikea ajatus, että käyttäisin tarkoituksella kameraa joka tuottaa todella huonoa laatua. No, mun kännykkä ainakin onnistuu siinä, joten päätin ottaa sen hyvänä haasteena ja katsoa mitä syntyy. Mun omaksi yllätykseksi, oikeasti jopa tykkään lopputuloksesta. Ei noi ehkä ole mitään kovin hienoa, mutta puhelinsurkimus onnistui kuitenkin paljastamaan aika erilaisen ja kiehtovan maailman, ja musta sekin on arvokasta.
Noi abstraktit maalaukset taas on tunteiden ja sisäisen fiiliksen purkamista - tavallaan mun tapa ilmaista jotain siitä mitä tunsin neljän päivän metsäreissun aikana keskellä koskematonta luontoa. Toi reissu oli osa "Students into the dark forest" työpajaa, johon osallistuin viime kuussa ja siellä luonnon keskellä löysin itseni oikeastaan aika mahdottomasta tilanteesta. Mulla oli kaikki mun valokuvauskamat mukana, mutta en osannut kuvata paljoa. Kuvien ottaminen ei tuntunut oikealta, koska mulle aarniometsä oli ennen kaikkea sisäinen kokemus ja joka kerta kun koitin katsoa etsimen läpi, niin tunsin että keskityin vain siihen mitä pystyin näkemään, en siihen mitä todella tunsin siellä ollessa. Joten tästä syystä päädyin lopulta valokuvauksen sijaan maalaamaan. Hylkäsin jo heti alussa siveltimet ja käytin niiden tilalla esim. palettiveistä ja pieniä muovipusseja maalin levittämiseen ja kerrosten luomiseen. Sillä tavoin pystyin saamaan jäljestä paljon sattumanvaraisempaa ja vähemmän hallittua tai viimeisteltyä. Kai tota metodia voisi kutsua myös eräänlaiseksi Jackson Pollock -metodiksi ja tässä tapauksessa toi metodi toimi erittäin hyvin. Tykkään lopputuloksesta todella paljon ja lisäksi koko homma oli äärimmäisen hauskaa ja vapauttavaa.
/
Here's something that I've been working with lately: three photos taken with my lousy old Nokia phone and some 70x100 cm sized abstract paintings.
The low quality photos are an attempt to let go from my usual equipment. I admit that I'm very much used to my DSLR and, though I'm not into technical stuff that much, it's still hard for me to think that I would deliberately use a camera that produces bad quality. Well, my phone certainly does that, so I took it as a challenge and actually, for my own surprise, I like the result. It might not be anything fancy, but I think the crappy phone revealed me quite a different and fascinating world.
The paintings then again are a burst of emotions and inner feelings - kind of my way of expressing something what I felt while being on a four day trip in an untouched forest, which was part of the "Students into the dark forest" workshop last month. During that workshop and in the nature I found myself from a quite impossible situation. I had all my camera equipment with me, but I was not able to photograph much. It didn't feel right, because for me it was mostly an inner experience and every time when I looked through the viewfinder, I felt that I was only focusing in the way things looked and not how it felt to be there. So, instead of taking photos I ended up painting. From the early on I rejected brushes and used other things like palette knife and plastic bags to apply the paint and build the layers. That way, with non-traditional tools, I was able to make it more random and not too controlled. I guess it was kind of a Jackson Pollock method, and in this case it worked brilliantly. I really love the results and it was fun and very liberating too.
Kolme vaikutelmaa lammesta / Three impressions of a pond
(Photos taken with a lousy old Nokia phone)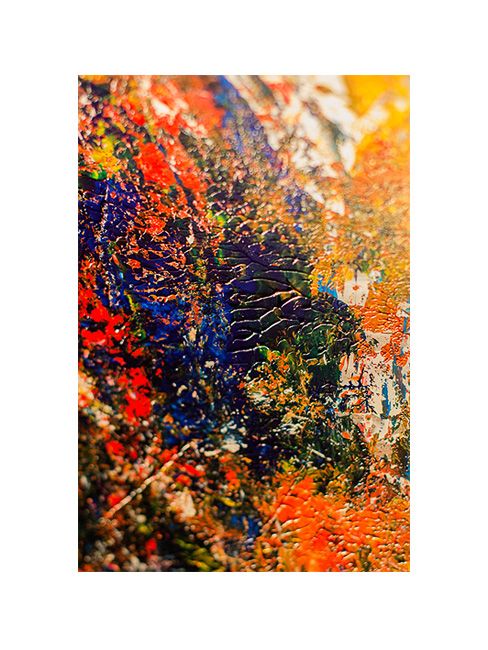 Yksityiskohta ensimmäisestä maalauksesta / Detail from the first painting
Kaikki kolme maalausta lattialla / All three paintings on the floor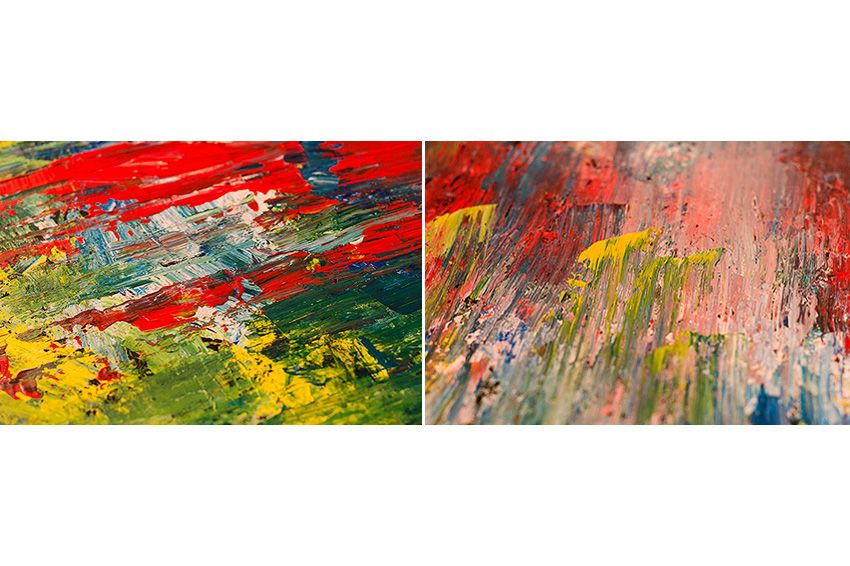 Kaksi yksityiskohtaa toisesta maalauksesta / Two details from the second painting